SCV Water Large Landscape Program

Turf Replacement Program
SCV Water is offering rebates for turf removal in large landscapes (HOA community landscaping, parks, landscape maintenance districts, businesses & industrial areas). SCV Water will pay $3 a square foot up to 2,500 square feet* per phase and 25,000 square feet per meter per year. Rebates will be issued upon completion and verification of turf removal.
New pilot programs include:
Water Retention Feature (Rain Garden, Bioswale, Terracing): $.50 per square foot
Sheet Mulching: $.50 per square foot
Bee Hotel and Owl Boxes: Up to $50 Each (Limit 1 ea. per Meter)
Rain Barrels: Up to $75 Each (Limit 2 per Meter)
*Projects larger than 2,499 square feet may need approval from City or County authorities. Contact us for details.

Efficiency Products and Irrigation Control
SCV Water is offering rebates on the following:
Weather-based (smart) irrigation controllers at the rate of $25 per active station (valve), up to the cost of the device to HOAs, parks & landscape maintenance districts within the SCV Water service area.
Drip Irrigation: $.75 per square foot of the project area
High-efficiency Nozzles: 100% of the purchase price
Pressure Regulating Bodies with Check Valves: up to $10 each
Master Pressure Regulation: 75% of the purchase price
Pressure Regulating Valves: 75% of the purchase price

School Retrofit Program
SCV Water will conduct a "check-up" of your outdoor water use and indoor equipment/fixtures at your school, analyze historical consumption, calculate a water budget for the school, and make recommendations for improvements to help save water. The recommendations may be accompanied by a grant up to $15,000 to implement the most cost-effective recommendations.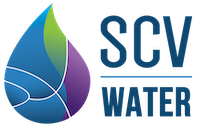 ---